Thursday, January 15, 2015 |
GMA News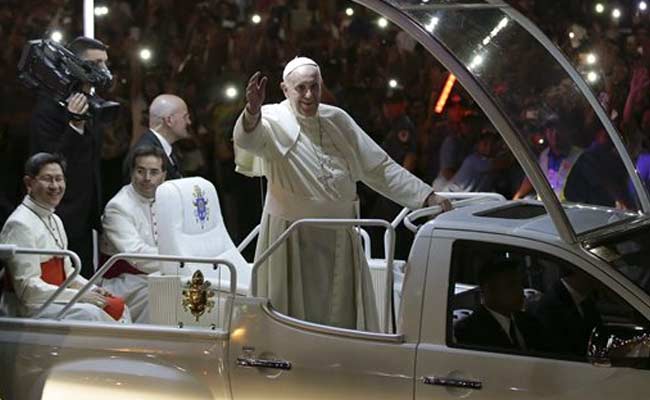 The poor and those who suffered from typhoon Yolanda, will be the core of Pope Francis' message, GMA News' "24 Oras" reported on Wednesday.
"The core of my message will be the poor, the poor who wish to move forward, the poor who have suffered the typhoon Yolanda and who still suffer its consequences," Pope Francis said in a press conference inside the plane en route to Philippines from Sri Lanka.

The Pope as asked for his message for the Filipino faithful, especially for those who will not be able to see him.
He also mentioned overseas Filipino workers in his news conference.
The Pope said there were Filipinos working at his home inside the Vatican.
"I was with them, I was looking at the Filipino employees, how they have left their country to look for a better life. Mothers and fathers leaving behind their children. I extend my love for the poor," Pope Francis said.
The first Pope from the Latin America also tackled issues of climate change, freedom of expression and religious extremism during his press conference.


The Pope was also asked if he was concerned about his safety during his foreign trips.
The 266th Pope said he was putting his safety in the hands of God.
Pope Francis said in jest that he would ask God that in case something untoward happened to him, it would not be too painful.
"I'm not very good at facing pain," Pope Francis said.
GMA News reporter Kara David was among the reporters on Pope Francis' flights from Rome to Sri Lanka and to the Philippines.
She said the 78-year-old Pope laughed and shared jokes with reporters while inside the plane.
He said Pope Francis, the third to visit the Philippines, was quite jolly and was in good spirits in coming to the country.
"Kahit six hours and 15 minutes ang flight namin, walang makikitang bakas ng pagod," David said.
David said Vatican spokesman Federico Lombardi told her that the Pope was not concerned about the rains that have been forecast to fall in Leyte on Saturday.
"Ang sabi niya sa akin: 'It's just rain, Pope Francis has no fear of the rain,'" David reported.
She added that the Vatican press was very impressed of the Filipinos' welcome at the Villamor Airbase. —Kathryn Mae Tubadeza/NB, GMA News
If you like this story. Please share it. Thank you!